Anika,
As news comes this morning of a major aftershock, thousands of traumatized children in Haiti still need clean water, medical care and protection from trafficking and sexual exploitation.
UNICEF IS THERE. New images and updates just hit my in-box and I wanted to share them with you.
© UNICEF/NYHQ2010-0018/LeMoyne
On 16 January, workers set up a water bladder at the Sports Centre in the city of Carrefour, near Port-au-Prince. The bladder is one of 26 UNICEF distributed, with a holding capacity of 5,000 to 10,000 liters. Water is provided by roaming water tankers, and the bladders are linked to pipes and taps available to the displaced.
© UNICEF/NYHQ2010-0025/LeMoyne
On 17 January, UNICEF Child Protection Specialist Cecile Modvar speaks with children who are living in a makeshift camp in Port-au-Prince. Ms. Modvar is seeking to identify unaccompanied or traumatized children who have lost or been separated from their families due to the earthquake.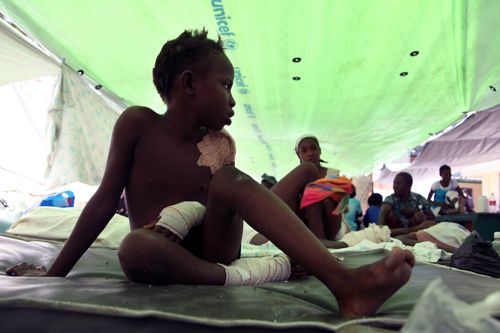 © UNICEF/NYHQ2010-0034
On 18 January, a girl who was injured during the earthquake rests in St. Catherine's Hospital, in Port-au-Prince. Due to overcrowding, a ward has been set up on the hospital grounds.
All of this is being done despite massive difficulties getting aid into the country (this map (
http://www.reliefweb.int/rw/fullmaps_am.nsf/luFullMap/F2C4DFF8A12A68DDC12576B0002570D2/$File/map.pdf?OpenElement
) gives the details). But these challenges mean nothing in the face of these children who need help.
NOT A SINGLE CHILD SHOULD DIE OF A PREVENTABLE CAUSE
in the days ahead. The best way to prevent more deaths is to get clean water and sanitation in place and to deploy child protection services.
UNICEF's response to date has included:
* Leading all Water, Sanitation and Hygiene (WASH) efforts. On January 19, 140 water trucks delivered enough water for 140,000 people.
* Providing bottled water to two hospitals, two orphanages and a police station. 120,000 liters of bottled water delivered to a general hospital in Port-au-Prince on January 17.
* Distributing jerry cans to local hospitals as well.
* Setting up three shelters; one of them is already operational. Child protection services' first priority is to identify and register children separated from families or orphaned.
* Working with seven child protection police brigades and deploying specialists to prevent trafficking at the border.
Thanks to you, UNICEF is saving children in Haiti.
Alisa Aydin
U.S. Fund for UNICEF
P.S. Remember 100% of all donations to the U.S. Fund for UNICEF will go directly to support relief efforts in Haiti. The U.S. Fund for UNICEF is absorbing all administrative fees associated with processing donations.
https://secure.unicefusa.org/site/Donation2?df_id=6800&6800.donation=form1&JServSessionIdr004=bljobefm94.app208a